Lace - People People (1968)
1967
As Christmas approached, the Talismen(1962- ) retired to rethink their act - returning in March 1968 as Lace.
March 1968
Lace: Roger Barber (v), Pete Pinckney (g), John Bullock (b), Dick Ray (d)
October 1968
Lace were in the EMI studios, where Beatle George Harrison asked if he might borrow a fuzz box, but they were unable to oblige, as they needed it themselves.
Their new single "People, People" was recorded in the 8-track EMI studio, Abbey Road at a time when most British recordings were still 4-track.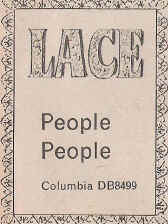 1968/11/15 7" Columbia:DB 8499 People People b/w The Nun
1969/02/ 7" Bell:762 People People b/w The Nun